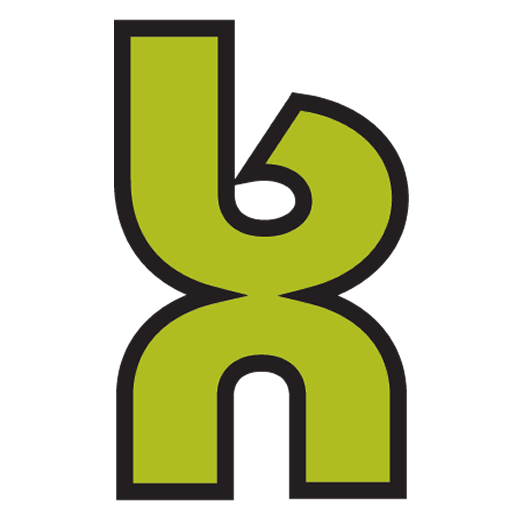 Automotive advertising, as a category, is notoriously bad. The big brands seldom produce memorable spots, print ads or campaigns. And at the dealer level there's nothing but obnoxious yell & sell retail ads. Many have been accused of false advertising.
Let's look at a campaign for the Toyota Camry… This isn't what I'd call blatantly false advertising. It's more like delusional, wishful thinking.
You have to start with this fact: The Camry is not an exciting car.
In fact, some automotive writers contend that Toyota's building nothing but vanilla-flavored toasters these days. Despite that, the Camry has been hugely successful and was the best-selling car in America for almost 20 years.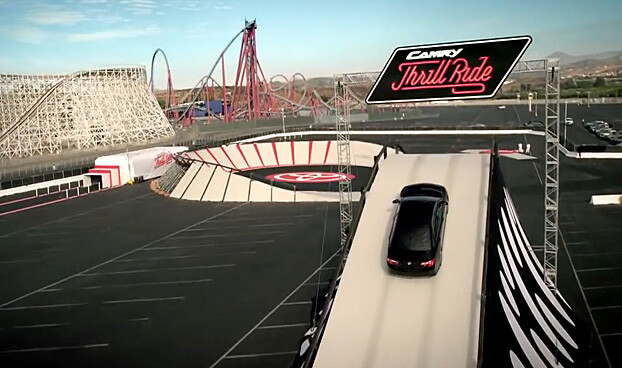 Obviously, there's a huge segment of the American car-buying population that does not care about horsepower, handling, sexiness or style.  They just want reliable, utilitarian, point-A to point-B transportation.
Plain old toasters on wheels.
My father drives one, and he fits the demographic perfectly… white, suburban 80-year old male who only drives a few miles a month. The last thing he's looking for in a car is a thrill ride.
And yet here comes an ad campaign for the Camry, titled "Thrill Ride."
What a great concept… a car as a high-speed turbulent thrill ride captured in a reality-TV format.
They built an elaborate, hot-wheels style track and then too people for a rid up and down the hills, around the high-G turns, and into consumer's hearts.  I want to drive!
I was enamored with the TV commercial at first.
Then I realized it's a Camry commercial.
Name Jumper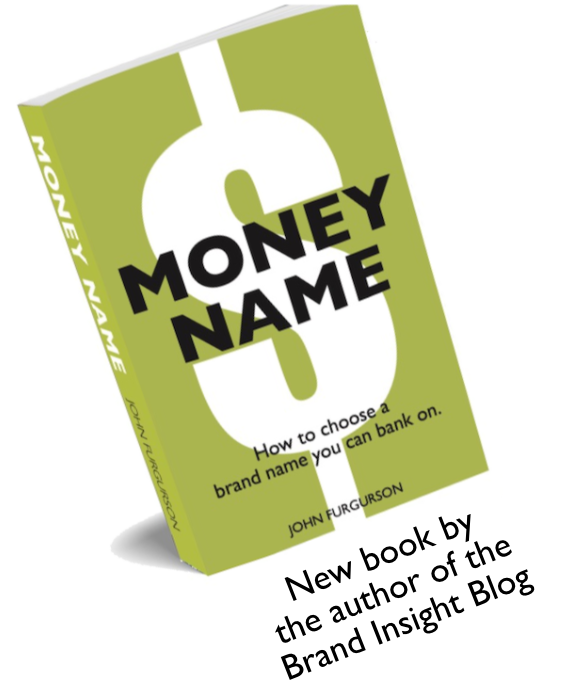 Shortcut to
better brand names
Starting a company or launching a new product? What are you going to call it? Quick! You need a really good name you can build into a million dollar brand. My new book can help. It's a quick and easy insider's guide to naming that will save you time, and make you money.
This is a classic case of a great advertising idea executed for the wrong brand. Some might even call it false advertising.
Once again, we have an automotive brand trying to be something it's not. If this campaign was for the Mazda Miata, then yeah. Maybe it would work.
The whole idea is misaligned with the Camry brand. "Thrill Ride" is not the least bit authentic, nor is it relevant to the people who might really be interested in a Camry. (They might have fond memories of ancient, wooden roller coasters, but they don't want to ride on one.)
And what's worse, the spot doesn't even deliver on its ill-advised promise of being thrilling.
The so-called "thrill course"  features one little hill, a banked turn, and a tunnel.  There are relatively young, hip people riding shotgun as the Camry inches its way around the course. It's a reality TV on Geritol.
I can understand why the Brand Managers at Toyota would want to appeal to a younger audience. And I can even go along with the premise of being a little bit more fun. But why do it in a way that's utterly fake and out of context?
Why leap all the way to "thrilling?"  Consumers are too smart for that. As one YouTube viewer wrote, "So you're basically saying that the only way your Camry will be exciting is to drive it on some mock roller coaster course."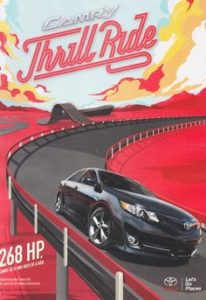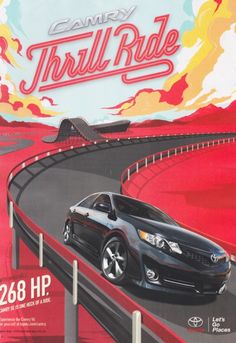 Why couldn't they advertise the car's popularity and reliability and resell value, but in a fun way?
"Among the boring sedans targeting people over 50, the Camry is the MOST FUN!" That, I could buy.
But there's no way Toyota will every convince people that the Camry is thrilling. They could launch one into space and parachute it back to earth, RedBull style, and it'd still be a boring brand.
But in this case, boring is good. People eat it up!  Why are they trying to be something else? There are plenty of thrilling cars already on the market that don't sell nearly as well as the Camry.
Bloomberg News reports that in 2014  the era of Camry dominance could run out. There's a lot of competition in the midsize sedan segment from Kia, Honda, Huyndai and the Ford Fusion. Perhaps the Camry spot was a knee-jerk reaction to the Fusion, with Toyota execs saying, "we gotta be cooler and appeal to a younger target audience like they have."
Good luck with that.
Assuming you built a thrill course worth its salt, the spot would work brilliantly for BMW's Mini brand. The Mini is a car that runs on rails, delivers thrills and is genuinely fun in every way. The analogy works.
With the Camry it falls on deaf ears.
At the end of the commercial one of the actors says, "like maybe I'll look at a Camry differently."  That sounds like a line stolen right from the creative brief under the header "objective." I seriously doubt this spot will do it.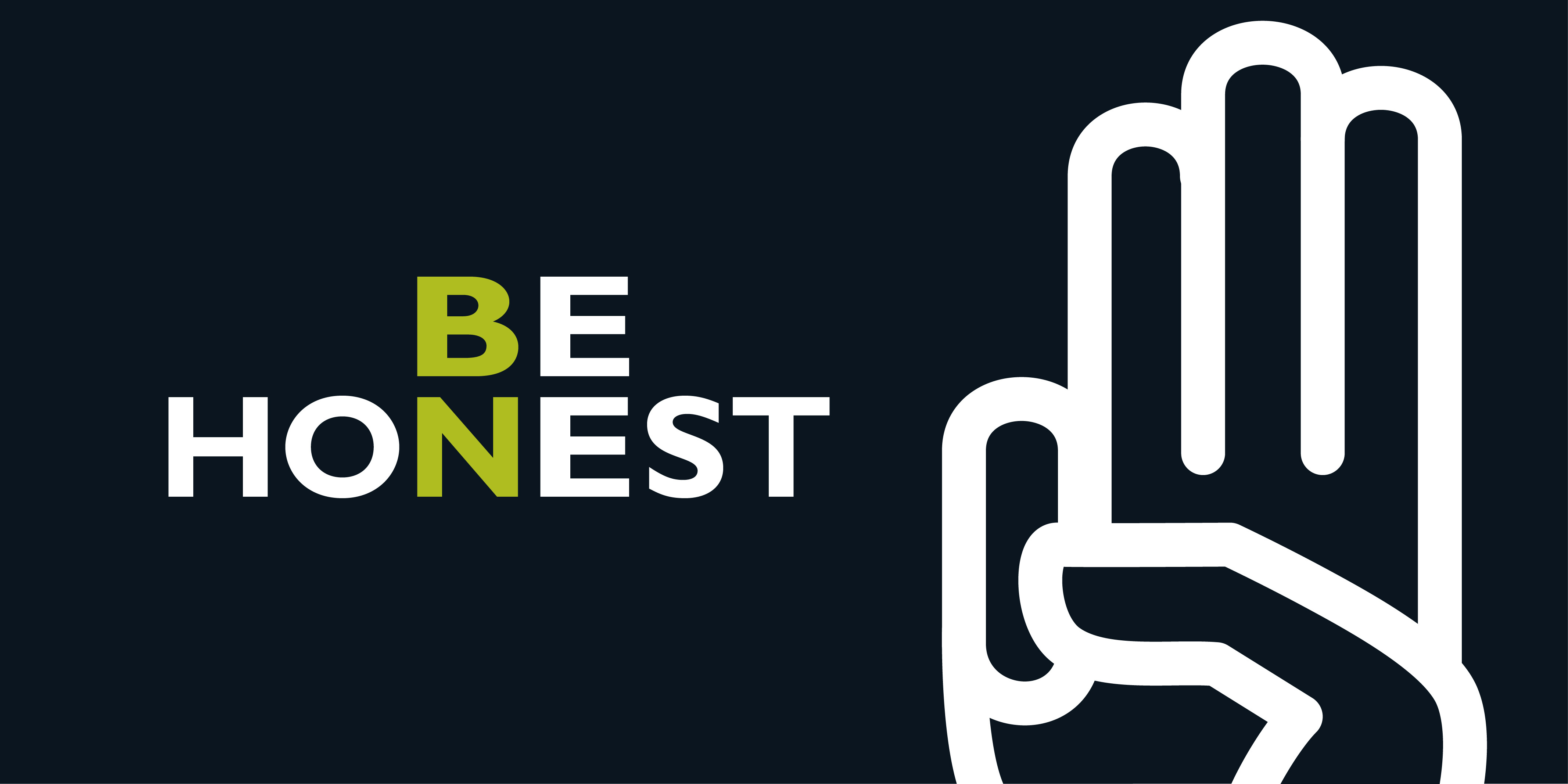 And more importantly, why would Toyota want people to look at the Camry  differently???  Seems to me, looking at it as the #1 selling car in the country with outstanding resell value and a super-high reliability rating would be plent
So here's some advise for brand managers and business owners concerning false advertising or grandiose claims…
If you're lucky enough to have the best-selling brand in your category, don't pretend to be something else. Don't lighten your offering in order to appeal to a seemingly broader audience. Stick to your core. Resist the temptation to leverage your brand it into some other line of work.
Stick with the core truth.
For example, if you're Guinness Stout you don't start advertising an American-style lager.
If you're Harley Davidson you don't start advertising a new line of lightweight motocross bikes.
If you have the best selling sedan in the country that happens to be a bit vanilla like the Camry, don't try selling yourself as a spicy hot sporty sedan. You're wasting your breath. And it's basically false advertising.
For more on truth in advertising, try THIS post.