Bend branding firm helps launch a new brand of frozen foods.
Oct. 10, 2021
Eathos premium imported frozen dinners are now for sale in 800 Target Stores nationwide. The new brand of consciously tasty comfort food is from Superior Foods Int., of Watsonville, CA.
BN Branding has been working on the brand's launch since 2019. The Bend, Oregon branding firm conceptualized the brand, did an intensive brand strategy study, devised the name, designed the brand identity and the website and handled all the digital advertising.
"We saw a 20% increase in store velocity, during the times when we were running target digital advertising,"  said Gene Grant, Eathos Brand Manager at SFI. "Now we just have to get on more store shelves. We have a deal cooking with Costco on the east coast, so we're optimistic about that."
Learn more about what BN Branding did to get the Eathos brand up and running.
John Furgurson appears on Bootstraps & Business Podcast
Nov. 2021
https://digitalmarketinggroup.com/bootstraps-business-ep-14/
Savannah Jones hosts this show that's packed full of practical advice on marketing, branding and business in general. This episode features John Fugurson, owner of BN Branding, a Bend, Oregon branding firm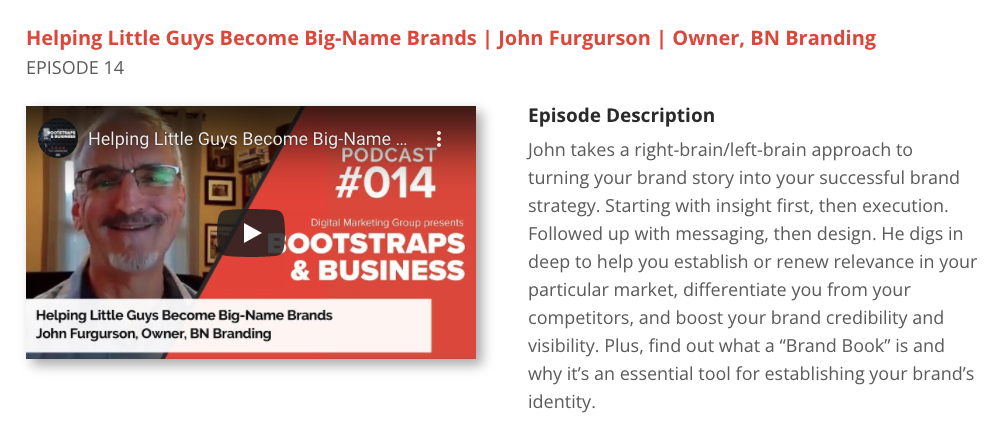 BN Branding named top 10 Oregon Branding Agencies by Design Rush.
Aug, 2021
BN Branding has been recognized among the top 10 branding agencies in Oregon 2021 by DesignRush.
DesignRush is a B2B marketplace that connects brands with professional full-service agencies, web design companies, digital marketing firms, and top technology companies.
Their platform lists over 9,300 agencies from over 50 different countries and is consulted by thousands of CMOs, business owners and marketing directors who are looking for a new agency.
BN Branding: Helping a national distributor in the health food industry.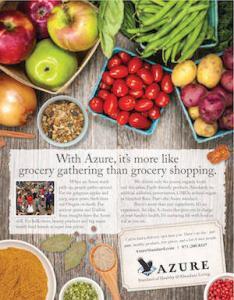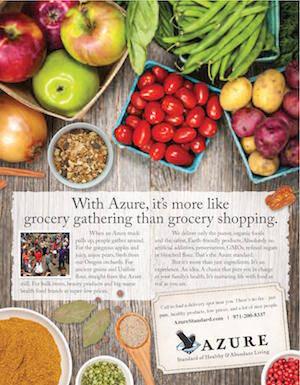 2017
Azure Standard is the largest, direct-to-consumer distributor of healthy, organic foods and earth-friendly products in the country. It's a true community of people who are absolutely zealous in their devotion to healthy living and the Azure brand. In the world of gluten-free baked goods, GMO free ingredients, and even vegan seafood, the Azure brand is the standard.
John Furgurson handled a wide variety of projects for Azure… brand development, creative direction on new packaging design, advertising, publishing, writing, social media and content marketing. It's an exciting, rapidly growing category.
Bend Branding firm helps launch a new golf club: The Worx Wedge.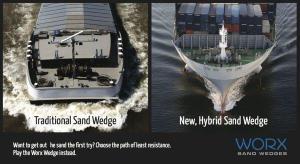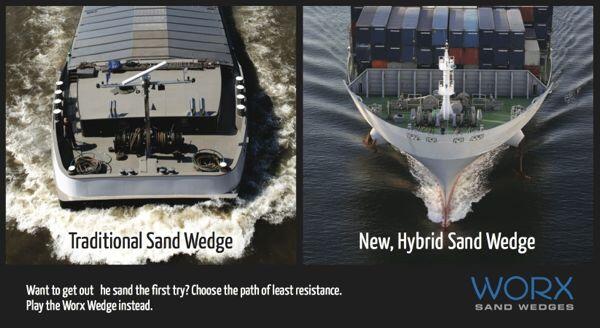 It's always nice to have a genuinely hot product to promote. Makes our job a lot easier.
For instance, the new Worx Hybrid Sand Wedge is selling very well in regional golf markets where we've launched a multi-media campaign. Seems golfers are unanimously sick of being stuck in sand traps.
The Worx Wedge is the first substantial innovation in Sand Wedge design in 60 years. So we have a compelling story to tell. It involves widely adopted technology, gorgeous design, and most importantly, a deep-seated emotional need on the part of the average golfer.
The owner of Worx searched nationwide for a branding and advertising agency with a solid background in golf marketing. BNBranding in Bend, Oregon devised the messaging for the new club, directed photography with DogLeg Studios, wrote and directed a TV commercial, executed a direct mail campaign, launched digital advertising and re-worked the WorxGolfUSA ecommerce website. As the campaign progresses, we're also looking forward to helping them expand their sales with point-of-purchase displays in retail stores and possibly an infomercial. Stay tuned.
Dramatic before & After: Bend advertising agency unveils new brand identity for the Sunriver Nature Center & Observatory.
The results are in, and there's nothing we love to hear more…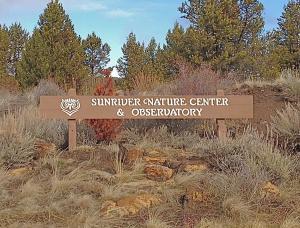 After launching a complete re-branding effort, the Sunriver Nature Center and the Oregon Observatory at Sunriver have seen a dramatic increase in visitor numbers. In fact, July and August were both record months for the non-profit.
Rick Braithwaite chose BNBranding after spearheading an ad agency search for the Nature Center and Observatory.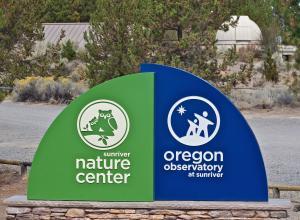 "I researched the Bend market and interviewed several branding firms and ad agencies," Braithwaite said. "BNBranding impressed me with their strategic thinking, and they have a solid portfolio of first-class design work. I've been very happy with the choice, and our Board of Directors is very pleased with the work."
In addition to the new brand identity, signage and advertising, BNBranding is also working on new websites for the Nature Center and the Oregon Observatory at Sunriver.
Pro Golf Of Bend drives foot traffic with print and TV campaign from ad agency BN Branding.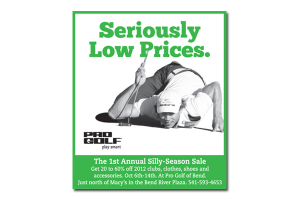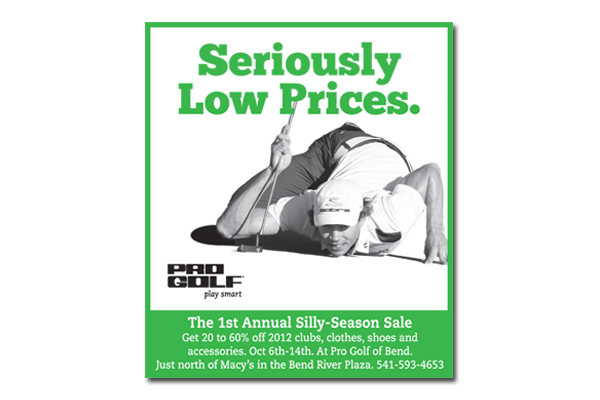 You can play golf year-round in Central Oregon, but there aren't too many people who do. So Pro Golf of Bend is doing inventory and taking stock after its first year under the new owner, Andy Heinly.
BNBranding helped Heinly and his team reach avid golfers with a constant presence in the local newspaper. Colorful little ads like this appeared every Wednesday in the sports section, right next to the "content" that's most relevant to Pro Golf's target audience.
Radio and TV spots were designed to reach a broader audience. Heinly said he had particularly good results from the TV spots that ran during The Olympic coverage.
"We've had great traffic through the store this year, and we had lots of people talking about the spots ." Heinly said. There's definitely some good buzz out there about us. We're very optimistic about 2017."
In 2005 Heinly teamed up with BNBranding owner John Furgurson to write The Forget-About-It Guide To Better Golf. You can buy it at Pro Golf.