Case studies from some of our recent clients…
Branding in the natural foods industry
Client: Leslie's Organics — Petaluma, CA
Brand: Coconut Secret
Initial Assignment: Update an old, outdated website.
Solution: Launch an ecommerce operation and turn the website into a profit center.
Leslie Caren was drawn to BNBranding through the Brand Insight Blog.
"When I read John's article on the yin and yang of marketing, I just had to connect with him," Leslie said. "I knew we needed to update our website, but John and his team ended up delivering much more than that."
It was a classic case of delivering what's best for the client, rather than what the client thought she needed.
Coconut Secret did not have its own ecommerce store, and we would have been doing her a disservice by not proposing that. So it wasn't a case of migrating old content onto a new website, they needed a whole new approach to their online branding.
"They really went above and beyond, with a new tagline, new photography, new shipping methods and a whole new way of doing business.," Leslie said. "I never dreamed we'd have this type of online store. Their service has been tremendous."

Golf Industry Marketing
Client: GNL Golf — Lady Lake, FL
Initial Assignment: Rebrand the Golf Institute and create the company's first website
Solution: Build a new business model that turns the sales pitch into a money-making educational service.
John Ford has been a client since 2006. We started with brand strategy, a value proposition and brand identity, then continued with a website, point-of-purchase advertising, direct response and print advertising. He's one tough customer.
"Marketing is kind of an obsession of mine," Ford said. "I've studied it. I've read tons of books. And I worked with big-name advertising guys all across the country, but I keep going back to this little Bend advertising agency."
"They have a process that I like, and they always deliver what they say they're going to. And damn… some of the advertising they've done for me is just brilliant. We have more leads and a better sales process than we've ever had before. We're killing it with our putting clinics." Read more about the GNL case study here.

Marketing in the natural foods industry
Client: Azure Standard — The Dalles, OR
Initial Assignment: Increase ad revenues in the company's quarterly catalog.
Solution: Revamp the publication, launch a content marketing effort, and build industry goodwill.
Results:  Increased advertising revenues 10x in just 12 months.
Azure Standard is a national distributor of natural foods and organic products. We devised the Azure Indie Partner Program that targeted Azure's vendors, industry partners and potential vendors in order to build the Azure brand from the inside.
"Sometimes the best branding projects aren't focused on end customers," said Debbie Pantenburg, CMO at Azure.
"What John created was a strategically brilliant concept that transformed Azure's position in the industry. He connected suppliers, team members and customers in a common cause. The idea went right to our core values, and helped define a business model that differentiates Azure from the competition."
"John was a key partner on the marketing team. He was also instrumental in the launch of our content marketing effort and advertising."

Real Estate advertising and branding
Client: Morris Hayden — Bend, OR
Initial Assignment: Naming, brand identity and website design
Results: Successfully launched a new brand in a highly crowded market
Morris Hayden is a property management company and real estate brokerage in Bend, Oregon. We created this brand identity for them and built a highly functional website that differentiates them at a glance.
"Bend is overrun by realtors, investors and property management companies, so it's tough to stand out," said Erika Morris, owner of Morris Hayden.
"There are also a lot of companies that specialize in websites for realtors, but those sites all look the same. That wasn't going to cut it for us," Morris said. "We needed the site to be just as functional as all the rest, with the MLS listings and all that, plus it had to look different.
"The idea of Rosey the Riveter was perfect for us. We get compliments on that site all the time. It's an integral part of our business."

Branding and advertising in the software industry
Client: SaleFish Software — Toronto, CA
Initial Assignment: Build a new website
Solution: Rebrand the company with a new identity, new value proposition, new website, new sales materials and digital marketing.
Results:  Stay tuned…
We talked with Rick Haws for two years before he decided to pull the trigger on a new website. His company's one of the entrenched leaders in the proptech arena, and he needed some help taking SaleFish to the next level.  In order to go global he knew he needed a better web presence. But he also needed a whole new way of looking at his value proposition.
"John was very thorough, in his process, and he determined that we needed to change the way we sold our software," Haws said. "In a nutshell… We quit selling the nitty-gritty features, and started focusing on the outcomes that we achieve for our clients.  And the response was immediately positive."
The BNBranding team devised all new messaging, a new brand identity, new website and new collateral materials. Work is ongoing on an animated explainer video, info graphics and digital marketing to drive traffic to the new site.
"I'm very, very happy with the new branding. It's all coming together fabulously," Haws said.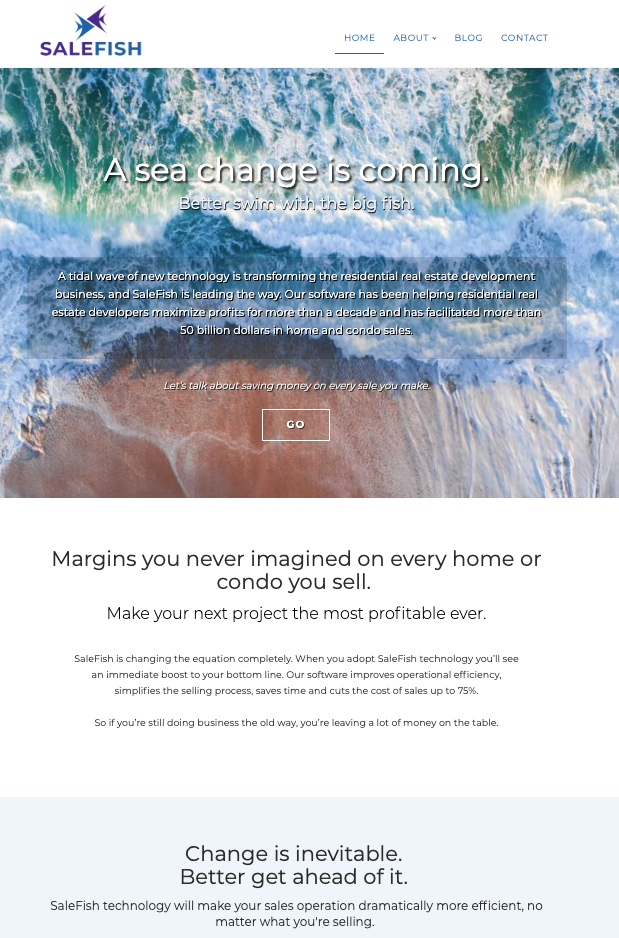 Client: Black Butte Ranch
Assignment: Brand re-fresh, advertising, resort signage, collateral, direct mail.
Results: A record number of heads in beds
We literally wrote the book on the Black Butte Ranch Brand. We also ran a ground-breaking radio ad campaign, devised seasonal promotions and produced new signage throughout the resort.
"When I was at Black Butte Ranch  BNBranding was our advertising agency of record. They started out by doing the research and writing the book on the Black Butte brand. Then they refreshed our brand identity, produced new signage throughout the resort, and did some great advertising for us. Their work put heads in beds and helped us increase our golf revenues."
"I think the radio campaign that John did for us was some of the best radio work I've ever heard. It was "out there" for Black Butte and yet it was right on brand. The story telling, the script writing, the choice of talent… it was amazing."

Branding a Non-Profit Organization
Client: Working Wonders Children's Museum
Assignment: Launch a new non-profit brand from the ground up… Naming, identity design, advertising
Results:
Launching a start-up is hard. Launching a start-up non-profit organization is even harder.
BNBranding was the advertising agency that helped build Working Wonders Children's Museum from the ground up. We devised the name, tagline and brand identity, helped with fundraising and board development, wrote their mission statement and acted as the museum's ad agency. We even helped create and build the playful, hands-on spaces in the museum itself. It was a labor of love.

Marketing to Restaurant Owners
Client: The Where To Eat Guide — Bend, OR
Initial Assignment: Create sales materials and a pitch deck
Solution: An integrated, in-your-face campaign that opened up two new markets.
The owner of The Where-To-Eat-Guide wasn't afraid to offend restaurant owners. He hit them right between the eyes with ads, email, direct mail and printed sales materials that helped him expand his publishing business from Bend, to Portland, to Seattle and eventually Napa.
"I didn't think I needed a branding firm," said John Herbik. "I figured I could do a lot of it myself, with just some freelancers. But I need to thank John for his insight on branding and marketing. The stuff he did really got attention and opened a lot of doors for my sales people."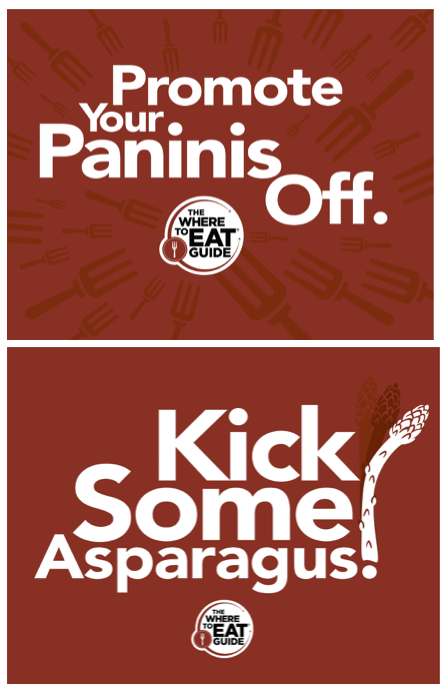 Here's what they say about us:
"As a CFO, I'm pretty leery of branding firms. Most of them just end up costing the company a lot of money, without any measurable results. But John Furgurson has a good head for business and he grasps the importance of results. His batting average is very good. Plus, he looks for ways to save money, not just spend it. I wish we would have spent more with BN Branding, and less with the other firms we've hired."
Carl Rigney
CFO and franchise owner
"From a branding standpoint, we were pretty well lost before we hired BN Branding. They've helped us organize our product lines, create a comprehensive brand strategy, and design two fantastic brands. It's been a great combination of strategic consulting and creative design… I've been very impressed."
"As an interior designer I really appreciate the art and craftsmanship of the work they do at BN Branding. Their design work is meticulous and very well thought out. John Furgurson is the consummate professional… always delivers what he says he's going to deliver. They did my website and some very nice printed sales materials. It's first rate. I would definitely recommend them."
Lisa Slayman
Slayman Cinema
"My "aha" moment with BN Branding was truly remarkable.  They helped me recognize a far broader application for my product.  They also went above and beyond with their namestorming process and came up with Kittigan Crossboats. My relatively small, early investment with BN Branding was immensely worthwhile.  John is a skilled strategist with some mad creative skills. "
Michael Grant
Kitigan CrossCanoes
"We didn't think we needed an ad agency, but when we found BN Branding, our website was in a state of emergency. They took great interest in our products and took the time to get familiar with our business model and our clientele. John came up with the new name and logo. And when the site was finished and launched, our selling proposition was much more clear, which led to more online sales without the "pre-call".  I would recommend BNBranding to anyone looking for any marketing."

Scott Beydler
Beydler CNC
BN Branding News
Big things happening for our client in the proptech software industry.
July 16, 2019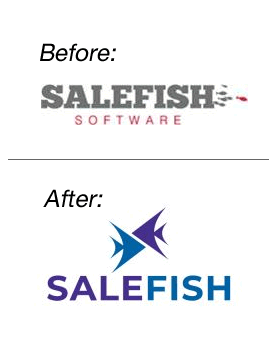 SaleFish Software is a SAAS company out of Toronto that serves residential real estate developers. Rick Haws, SaleFish CEO, hired BN Branding initially to do a new website. However, as the research & discovery work progressed we determined that SaleFish needed to rebrand itself in order to achieve the goals that Rick set out.
The scope of work has progressed from a simple website refresh to a new brand identity, collateral materials, video production, content marketing and digital advertising.
"I'm very happy with the new branding," Haws said. "It came together perfectly… with the new logo and the new site, and some new sales materials… now we're poised to expand our global reach."
Bend branding firm redesigns GutPro packaging
Jan 2, 2019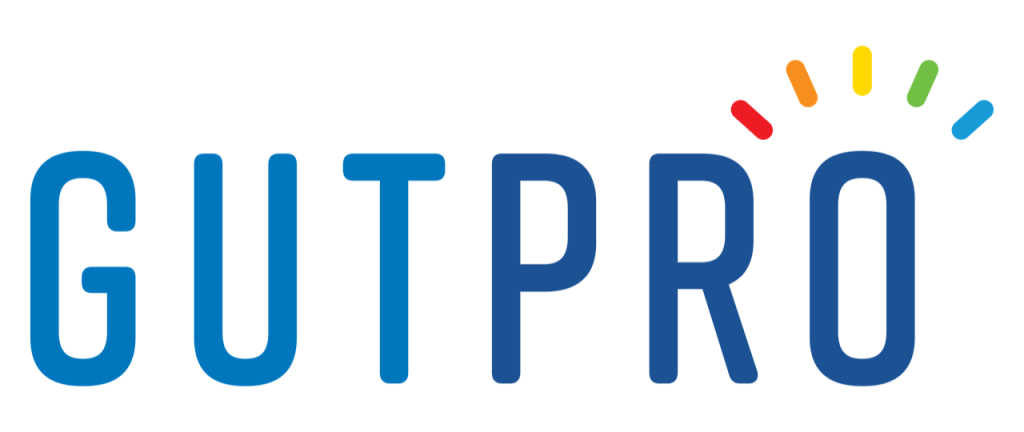 Organic 3 Inc., makers of Gut Pro probiotics and owner of Corganic Ecommerce has hired BN Branding to design a new brand identity and packaging for their GutPro line of probiotics and enzymes.
Bend, Oregon advertising agency BN Branding chosen to help launch a new health benefits company in California.
Nov 15, 2018
Incentive Health of Bakersfield, California has hired BN Branding to help them stir things up in the health benefits arena. The Bend, Oregon branding firm is working on a brand strategy, go-to-market plan, website, sales materials and a tactical marketing plan for the new company.
"This is a fantastic opportunity for us to help create a disruptive new brand, from the ground up," said John Furgurson, owner of BNBranding. "We're going to change the way CEOs look at health benefits. It's exciting."
Until now, CEOs have faced a difficult decision when doing their annual review of health benefits.
"It's always been a trade off," Furgurson said. "They had to choose between their people and their profits. It's a no-win. But now there's an alternative to that."
BNBranding launches new website and ecommerce store for Coconut Secret
Aug, 2018

We're proud to be working Leslie's Organics, makers of the Coconut Secret Brand of natural foods. Leslie and Randy chose BN Branding to launch an ecommerce website and provide tactical marketing assistance.
Coconut Aminos is the nation's #1 selling brand of soy-free Asian condiments. They also have a delicious line of candy bars, chocolate bars and granola bars, all sweetened with coconut nectar. So we're getting some tasty photography for that. (Thanks to Mike Houska, at Dogleg Studios.)
Some of the brands we've helped over the years…