Leslie's Organics — Petaluma, CA
Leslie called BN Branding because she needed to update the company website. It turned into a classic case of delivering what's best for the client, rather than what the client thought she needed.
At that time Coconut Secret did not have an ecommerce store, their website was desperately outdated, and they had no brand strategy to speak of. So it wasn't a case of migrating old content onto a new website platform. BN Branding had to develop a new foundation for their brand messaging and a whole new approach to their business.
"The team at BN Branding really went above and beyond, with a new tagline, new photography, new storytelling " Leslie said. "The tagline is absolutely brilliant… "Tap into it" says it all, in just three little words. It's literally what we do, and it's an affirmative call to action. We love it."
Leslie said she never dreamed the project would lead to a whole new way of doing business through Shopify.
"The service at BN Branding has been tremendous," she added. "We knew nothing about ecommerce or about modern website design, and they made the process totally manageable. They handled everything from the copywriting to the images and the coding and the maintenance. It opened up so many new doors for us."
Two years after the new site was launched Coconut Secret was acquired by a multinational food company. Leslie and her brother Randy said they were able to sell for a multiplier that was millions of dollars over anything they ever dreamed of.
"Who knew that Coconut Aminos as an alternative to soy sauce could amount to all that," Leslie said. "But we built a nice little brand with tremendous upside potential. It was time for new management that could take it to the next level. I was sad to see that the first thing the new owners did was dismantle the website and all the great work that BN Branding did."
Branding in the natural foods industry
Client: Leslie's Organics — Petaluma, CA
Brand: Coconut Secret
Bend, Oregon Ad Agency: BN Branding
Initial Assignment: Update an old, outdated website for a consumer packaged goods company.
Solution: Launch an ecommerce operation and turn the website into a profit center.
Azure Standard — The Dalles, OR
Initially, BN Branding was hired to increase the revenues for Azure's quarterly sales catalog. Consumers all across rural America order bulk items from the quarterly publication. The products are then "dropped" off at community drop points, and families often drive long distances to pick up their orders. They're a die-hard group of brand loyalists.
"Sometimes the best branding projects aren't focused on end customers," said Debbie Pantenburg, CMO at Azure.
The BN Branding team devised the Azure Indie Partner Program that targeted Azure's vendors, industry partners and potential vendors in order to build the Azure brand from the inside.
"What they created was a strategically brilliant concept that transformed Azure's position in the industry. They rallied suppliers, team members and customers around a common cause. The idea went right to our core values, and helped define a business model that differentiates Azure from the competition."
BN Branding was a key partner on Azure's marketing team. Once the magazine was producing a record volume of ad revenues, there were videos to produce and a book full of ads to design for vendors.
"Azure has a special place in the hearts of vendors as well as consumers," Pantenburg said. "Many of our vendors are small companies that can't afford marketing on their own, so any help they get from us is golden."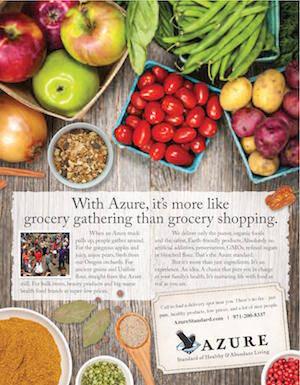 Marketing in the natural foods industry
Client: Azure Standard — The Dalles, OR
Bend, Oregon Ad Agency: BN Branding
Initial Assignment: Increase ad revenues in the company's quarterly publication.
Results: Increased revenues 10x in just 12 months.