The BNBranding Process
BNBranding is a service company. We provide Marketing Management Services with an eye toward long-term Brand Equity. So how we work is just as important as what we produce.
Our disciplined, step-by-step branding process emphasizes front-end strategic thinking. Because no amount of creative wizardry will help if you don't start with a solid, well-defined brand strategy.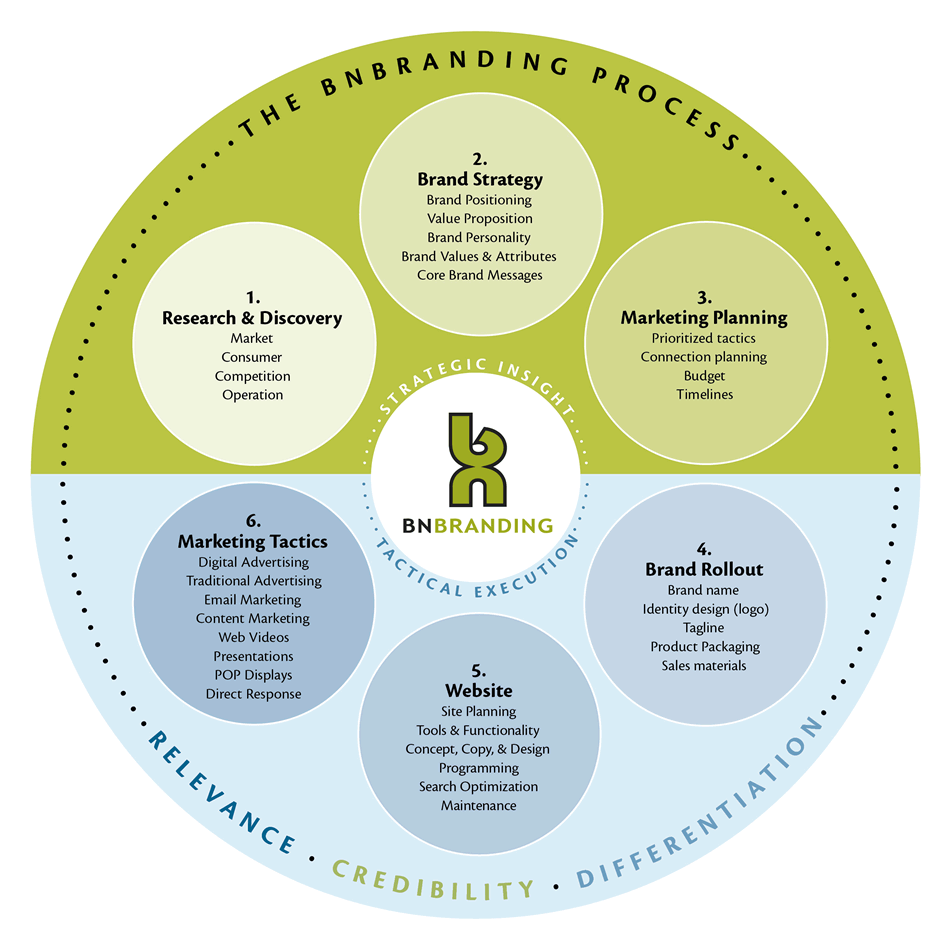 For us, the branding process goes like this: Insight first, then Execution. Every time.
In Step 1 our discovery process will provide actionable insight on the realities of your market, the competitive situation, the consumer, and your operation.
The depth and extent of our research is dictated by your budget. We apply the same process to even the smallest clients. (It's surprisingly affordable.)
In Step 2 we use that insight to clarify your brand strategy. This is the foundation of your on-going branding efforts. so it's important to spell it out very clearly. Our brand strategy documents are designed to be the bible of your brand, and a long-term asset for your company.
In Step 3 we help you plan the marketing activities that will support the strategy. We'll help you sort through all the "marketing opportunities" and deliver a plan that's focused and fiscally responsible. Connection Planning (formally known as Media Buying) refers to how we employ various media options, such as digital advertising, to achieve the specified goals.
Step 4 applies to new brands, re-branding projects, or packaging design. This creative work is driven by the strategic thinking from the first three steps.
Step 5 is critically important these days. Your website needs to work on many different levels in order to be relevant, credible and differentiated from every other website in your category.
Step 6 is never-ending. These are the everyday marketing tactics that we can employ in order to achieve your strategic goals. (It's very important to distinguish between strategy and tactics.)  Strategy is set at the beginning of the branding process and can be reviewed annually. Marketing tactics are the everyday activities of your marketing department.
The marketing landscape is changing rapidly. Rest assured, we keep up and we handle all the details for you, so you can focus on the operational side of your business or your specialized craft. You'll get better results, with fewer headaches.