Sometimes, when it comes to copywriting, one single word is everything. The difference between a marketing home run and a dribbling bunt.
I recently ran into a client who was completely fixated on one word in a headline: "Precious."
"Babies are precious, not parking places," she argued.
"Yes, but diamonds are also precious. And what's more valuable than diamonds?" I countered.
By using that one word I exaggerated the value of the free parking and elevated that little product feature to an entirely different realm. It was an effective use of incongruity in advertising copy, and she just couldn't get her head around it. Just as most people can't get their heads around the idea of disruption.
So I tried some alternative adjectives…
"Popular" just didn't have the same effect. "Convenient" didn't have the alliteration I was looking for. "Valuable" just sucks. The more I searched, the better the word "precious" seemed. The incongruity of it was perfect for that context and purpose.
Incongruity in advertising is a mismatch between an element in the ad (product, brand, endorser, music, word, photo, etc.) and an exiting frame of reference. Academic research on the subject has shown that "incongruity causes disturbances in one's cognitive system"…
That's precisely what advertising people are going for; a disturbance in your thinking that causes you to pause, consider or reflect on the brand. That's what good copywriting is all about.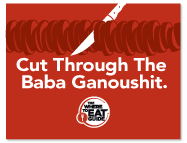 "Impirical evidence suggests that individuals presented with incongruity are more likely to engage in detailed processing than they are with congruity, and may even respond positively to the incongruity."
On the other hand, ads, tweets, presentations and websites that contain nothing new or different will not be processed at all. Like the following blurb from a Bed & Breakfast website:
"Welcome to our home! We invite you to look around our website and consider a stay with us on your next visit to or through Lexington. When we open our door to you, we consider you as welcome guests, but want you to feel as comfortable here as you do in your own home. Our mission is to provide you with lodging, rest and meals that are memorably special, to do so with the kind of Southern hospitality you expect and deserve, in tasteful household surroundings that carry the tradition of Old South charm. You will find something "extra" everywhere you turn during your stay, from the bedding, room amenities, complimentary toiletries, and more…Each area has its own entertainment system, open WiFi access, and, for each room, individual climate controls. We believe you will enjoy your stay with us so much that you will regret having to leave, but depart looking forward to another visit. We hope to see you soon.
"Complimentary toiletries." Really?
How long did it take for your eyes to glaze over and your ears to tune out? It all sounds so much like every other blah blah blah B&B website, you don't hear a word of it. Your mind just skips over it, like a triple speed fast-forward button on the TV remote.
In marketing, the opposite of incongruity is not congruity. It's invisibility!
When everything lines up the same, old, expected way, the message becomes completely invisible. Without some degree of incongruity, the copywriting fails.
But effective incongruity hinges on proper, relevant context. Example: I recently used the word "babaganoushit" in a headline. The message was targeted specifically to restaurant owners — they know babaganoush when they see it.
The context made the incongruity of the word effective. If the target was the general public, it'd be a different story. If an element is totally out of context AND incongruent, it seldom works.
I recently saw a TV spot for a local realtor that was so wildly out of context and incongruent, it didn't work at all. All you see are tattooed arms putting a puzzle together while the voice-over talks about "real estate market tearing families apart." Creepy!
If you're a client who purchases advertising, try to embrace incongruity. It could be one word in a headline that seems not quite right, or one image or graphic. Chances are, if it seems just a little outta place it's going to work well. It'll stop people in their tracks and engage the creative side of their brain. It'll break through all the "babaganoushit."
Copy like the bed and breakfast paragraph above is, what I'd call, boringly congruent. It's so expected and chock full of cliche's no one's going to hear it. Our brains are wired to weed out the mundane.
So next time, take time to throw in at least one interesting word like Babaganushit. It makes all the difference.